A Cinephile's Dream: 10 Days at the Locarno Film Festival
Written by: Erin J
Today, August 17, 2019, I finished an emotional week at the Locarno Film Festival with a John Waters' press conference. It's hard to describe what it's like to attend a film festival. You are surrounded by a certain energy that has infected the whole town and even the whole region. You go from theater to theater in a frenzy, excited to see what's next on the big screen. You go early to secure your seat as the smaller venues sell out fast. You read the descriptions, but you can never know what to expect until you are finished and everyone is clapping (or walking out, depending on the film!).
This year marks the 72nd Locarno Festival del Film in Locarno, Switzerland. For ten days every August, the town is transformed. They bring out the yellow and black chairs, the official colors of the festival, and set them up by the thousands. People check the weather forecast to be sure no rain will spoil the famous night showings on Piazza Grande, which seats 8,000 people. Film lovers come from all over the world to visit the festival, which becomes a magical place for adults and children alike. There are several programs for children, which makes theater-hopping possible for parents, and may influence young budding filmmakers, you never know!
The history goes back to August 1946, when it was held on the grounds of the Locarno Grand Hotel, and is now one of the world's longest-running film festivals. Looking toward the future and serving as a showcase of art-house films has been a priority as well as the Histoire(s) du Cinema (History of Cinema), to honor great films of the past.
There are also plenty of other things going on before, during and even after the festival. The big round-about, called "Rotonda" boasts a street food festival, live music every night and several bars. All of the local galleries host free art exhibits. So if you don't like films (how is it possible, though?), you will still find enough to do! One night, I made my way to a free contemporary art exhibit close to the main theatre area where a friend was showing his five-second film entitled "Femme with Gun". There is something for everyone.
Highlights of This Year's Festival
Quentin Tarantino's New Film
Twenty-five years after the release of Pulp Fiction, Quentin Tarantino's film, 'Once Upon a Time...in Hollywood' showed in Piazza Grande (Grand Square) to an almost unheard of sold out crowd. Many people were turned away disappointed, including me, when it sold out early. I have been a huge Tarantino fan since I saw Pulp Fiction back in the day. Luckily, it opens in theaters here in September.
I had heard that Leonardo DiCaprio would make an appearance so I waited near the red carpet with a crowd of people only to find out it was just a rumor! Oh well, maybe in another life.
Black Light Retrospective
Black directors were recognized this year with such stars as Spike Lee (who had his international debut in Locarno) and Sidney Poitier. Lee's famous 'Do The Right Thing' and 'She's Gotta Have It' were highlights of the festival. Other films like Poitier's 'Stir Crazy' and Melvin von Peebles' 'Sweet Sweetback's Baadasssss Song' were also among the American Films. I am definitely going to look for that one online! Let's hope Netflix Switzerland has it!
I didn't make it to see any of the Black Light Retrospective films, but I have seen many from the line-up, including Lee's two films, 'Boyz n the Hood', by John Singleton and of course, 'Super Fly', directed by Gordon Parks, Jr., in 1971.
I was a bit disappointed to see some white directors among those honored.
John Waters aka "The Pope of Trash"
John Waters' shock cinema was another highlight of this year's festival. Every year, the committee chooses a director to showcase, and this year's choice was one of my personal favorites. I finished my week with Waters' press conference, where he captivated the audience with his humorous dialogue, even going so far as to compare Donald Trump to a white James Brown impersonator who definitely shaves his asshole and then saying "imagine fucking Trump! I mean, gag the flag!", which left the audience in a fit of laughter, as you can expect! Shocking, yes, but that's funny, it doesn't matter who you are!
He said that today's political correctness in the United States has ruined everything and stated that adding "NC-17" to the American rating system probably ruined his film career. Luckily his films are now considered cult classics and he's been writing books for years!
The films 'Female Trouble', 'Pink Flamingos', 'A Dirty Shame', 'Serial Mom' and 'Cecil B. Demented' (shown in Piazza Grande), were among the lineup.
The Best Film That I Saw
I arrived early one morning at 8:45 to see 'Les Enfants d'Isadora' (Isadora's Children). The film, which started bright and early at nine sharp, is the story of Isadora Duncan's dance entitled 'Mother', which she created after her two young children died in a car accident in France. The film, though a bit slow, is an emotional journey of four women and the part the dance plays in their lives. One woman, infatuated with Duncan, looks to recreate the dance using the written script she finds in a library. Another woman teaches the dance to a girl with Down Syndrome. The last woman, elderly and crippled, travels across a large city to see a performance. Afterward, she returns home and plays out the dance with her own dead child.
Relating with Isadora, the film is a sweet, yet sad, journey into the heart of a grieving mother. The woman herself, a famous ballerina from the early 20th century, died a tragic death when her long neck scarf was caught in the wheels of the automobile she was driving, suffocating her. A life filled with art, tragically short, full of sorrow, she will live forever in this new movie by Damien Manivel. I highly recommend this French film.
Hilary Swank Walked the Red Carpet
Hilary Swank received the Leopard Club Award. Given out only since 2013, the award goes to someone who has "left their mark on the collective imagination". With two Oscars for Best Actress, Swank has certainly left her mark. Both films, 'Boys Don't Cry' and 'Million Dollar Baby' were part of the Histoire(s) du Cinema (History of Cinema), this year.
And The Winners Are….
Of the five films I decided to see this year, three won prizes tonight at Piazza Grande's awards ceremony.
Pedro Costa's Vitelina Varela won the Golden Leopard for best film. I found the movie very dark and I mean, the screen was almost completely black for about 99% of the film. It was distracting and it didn't help that the characters were also black as I could barely concentrate. The story moved slow and scenes seemed to drag on for far too long. Underneath it all, the story of Vitelina, a woman whose husband ran away to Portugal from Cape Verde forty years earlier, is a simple portrait of a strong woman. With limited but powerful dialogue, I had the feeling that this film would win, despite hundreds of people walking out of the theater during the screenings. The film's star, Breillat, received the award for best actress.
Algerian filmmaker, Hassan Ferhani, director of another touching film, '143 Rue du Desert' (143 Sahara Street), won the Golden Leopard for best-emerging director. The film is a documentary about a little old lady that runs a tea stand in the middle of the Algerian Sahara. I found the film funny, yet depressing, with its economic themes throughout. But if Malika can find humor in her situation, we can too. She worries about her future when a restaurant threatens her "bread and butter".
Best Director went to Damian Manivel for Les Enfants d'Isadora. Despite the slow pace of the film, it was well-directed. I was happy to see that he won.
I am feeling a bit smug right now that of all the films presented at this year's festival, three of the five that I decided to see were winners. I am already planning for next year. Number 73, here I come! Next time around, I just might buy the pass for the entire ten days. I can't afford such a long list of "to watch" films. I have too much to do! Better to get it done during the festival when I have an excuse to binge on films.
Yours Truly,
Erin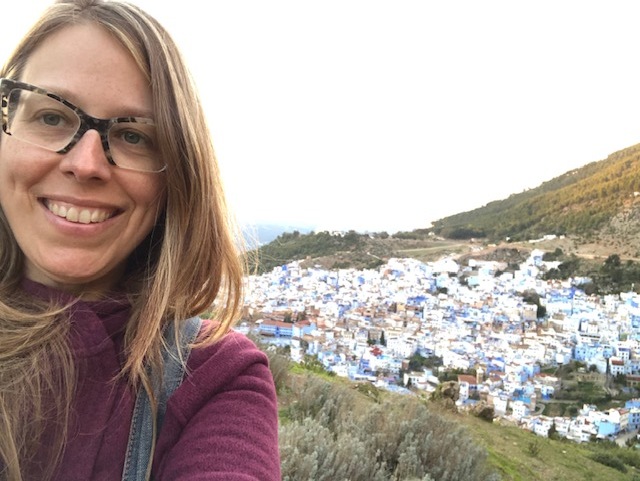 Erin is a travel-loving friendly introvert that lives in Europe. She studied all things Russian as an undergrad and went on the get her MA in Russian Literature. Originally from Michigan, she now spends most of her year in Switzerland. She loves editing, writing, teaching, art, history, art history, music, cats, vegan food, and speaking out about injustices. She has three adorable children and one feisty feline.