5 Movies That Inspired Wanderlust
"You'll never cross the ocean unless you have the courage to lose sight of the shore." ~Christopher Columbus
My constant daydreaming about travel began at an early age. TV shows like The Love Boat and Gilligan's Island fueled my desire to escape to a far off land and live a life of tropical island escapades. I dreamt of spending my days beach-combing, surfing, and reading while lounging — soaking up the salty air of the beach and basking in the sun's rays.
As I grew older, my entertainment tastes evolved, but my yearning for travel and adventure never waned. I'm still very much inspired by shows and movies that depict an island way of life living near the beach. A great film with beautiful cinematography does wonders for expanding my bucket list of places to visit and things to do.
Need inspiration for your next holiday? This isn't a list of Bay Watch or Hawaii 5-0, but of the top movies that inspired me to take up traveling full-time, focus on island hopping, and surround myself with breathtaking beach destinations. I could watch these movies over and over, again and again. They spark my wanderlust and keep me excited to explore new destinations around the globe. They'll have you packing your beach gear sooner than you think.
The Beach (Drama-Thriller, 2000) – Southern Thailand
Topping my list is The Beach, starring Leonardo Di Caprio. I actually got to view this film on the beach, chilling on bean bags in Indonesia on a snorkeling trip to an island called Gili Air. It was under a canopy of stars with an enormous projector screen. How cool is that?!
The Beach was a must-see movie of 2000. It put Thailand on the map for many people dreaming of crystal clear waters, white sandy beaches, and all-night "full moon" alcohol-induced parties. This movie gave me a glimpse of the backpacker life and inspired me to search out as many secluded islands on the world map that I could find. This was the movie that started it all for me!
The Beach was adapted from Alex Garland's bestselling thriller novel and directed by Danny Boyle. Leonardo Di Caprio's character, Richard, is an aimless young American male backpacking in Thailand. He is given a map showing a hidden unspoiled beach on an undisclosed Thai island, and he makes it his personal mission to find the secret location.
Unfortunately, the location where FOX filmed the movie has experienced a grim demise as Maya Bay is now closed to the public after tourists and visitors overpopulated the Koh Phi Phi destination for years after filming, and the coral reef in the area has sadly become severely damaged.
Blue Crush (Sport Drama, 2002) - Hawaii
One epic scene from Blue Crush really left a lasting impression on me. The main character, Anne Marie Chadwick (portrayed by actress Kate Bosworth), is deep sea training — in the crystal clear waters of Hawaii — to increase her lung capacity for holding her breath underwater by running on the sandy sea bed while carrying an enormous rock and pulling her friends along with her on her shoulders. It was so inspiring, and the underwater scenery was absolutely breathtaking.
Blue Crush follows the story of three female surfers as they train for Pipeline, the big surf competition held on Hawaii's North Shore. I loved the presence of such strong independent female characters, and the cast line up really hooked me in with what was such a simple concept of girl power at the time. The main character overcomes such amazing personal challenges: mentally, physically, spiritually, and socially.
The script is actually based on an Outside magazine article, entitled "Life's Swell" and written by Susan Orlean about Maui's surfer girls.
In John Stockwell's film, the Pipe Masters surfing competition is shown as the first time women are competing at Pipeline, North Shore's most famously feared wave. Anne Marie is in the competition with real-life pro surfers Kate Skarratt and Keala Kennelly. At one point in the film, instead of being competitive, Kennelly helps Anne Marie get over her fears of wiping out and offers her support and encouragement. The theme of female support is reinforced throughout the film through Anne Marie's chaotic personal life of living with all women to help raise her younger sister Penny, as well as the fact that Anne Marie's former competitor in the storyline, Eden, is one of her best friends and a seasoned surfing mentor.
I haven't been to Hawaii, but this film definitely placed this tropical paradise high on my bucket list.
50 First Dates (Comedy, 2004) - Hawaii
In a list full of dramas about tropical locations, this tropical paradise movie set in Hawaii brings a sense of comedy to the list and balances the idea that not all island or beach movie settings have to involve surfing or water recreation. The script isn't based around travel, but this American romantic comedy starring Adam Sandler and Drew Barrymore really further cemented Hawaii's spot on my bucket list.
The story follows Henry (Adam Sandler), a womanizing marine veterinarian who falls for an art teacher named Lucy (Drew Barrymore). The film depicts such fun-loving scenes of drives in the countryside, small beach cafes, and pineapple-picking birthday celebrations. Who wouldn't want that island life! Count me in!
Most of the movie was filmed on Oahu, Hawaii and around the North Shore area. Sandler and Barrymore won an MTV award for Best On-Screen Team. The fictitious memory impairment Barrymore's character suffers, "Goldfield's Syndrome", is similar to short-term memory loss and anterograde amnesia — such as the script was inspired by the real life story of Michelle Philpots from Spalding in Lincolnshire, whose memory is wiped every single day since 1994 due to multiple head traumas from a car accident, just like Barrymore's character in the film.
Point Break (Action-Drama, 1991) - California
Point Break really put surfing culture back on the map after the surfer and beach-themed shows of the 50's and 60's had their run. Johnny Utah (portrayed by Keanu Reeves) made surfing feel more mainstream, like anyone could learn to surf after a few casual Sundays spent learning the basics. With Lori Petty as a teacher, that might inspire me to jump into a few lessons as well. She's a hoot!
When the film came out in 1991, it quickly became a cult classic for adrenaline junkies and adventure seekers. For me, it was another glimpse into the escape beach life portrayed. My dream growing up was to leave my midwestern life behind and move somewhere to sell seashells in a shop by the ocean. Maybe someday!
Rick King, co-producer and screen-writer, plotted the idea for Point Break while lounging on the beach, reading an LA Weekly article about Los Angeles being the robbery capital of America. He came up with the storyline about an FBI agent infiltrating a surf gang that robs banks to fuel and fund their extracurricular activities.
I loved how the movie focused on rebellion — challenging and questioning authority — with the gang going toe-to-toe against the status quo.
Into The Blue (Action-Thriller, 2005) – Bahamas
Another ocean adventure based film on the list was directed by John Stockwell, the same director as Blue Crush. Into the Blue stars Paul Walker (RIP) and Jessica Alba, a scuba-diving couple loving life in the Bahamas. The film tells the story of this couple taking their friends on a deep sea treasure-hunting diving trip in search of a pirate ship rumored to contain millions of dollars in gold. But in an unfortunate turn of events, they discover a crashed plane full of drugs near the famous shipwreck.
The story spins out of control when one of the friends decides to sell some of the drugs to make his own profit, which of course sets the story into a tailspin of cat-and-mouse between the divers and the drug lords. And the treasure hunters quickly become the hunted.
This film really set off a sense of curiosity in me about travelling not only being about seeing the ocean and beach side fun, but inspired me to seek out water activities such as snorkeling and freediving while travelling.
Brokedown Palace (Drama, 1999) - Thailand
Another movie set in Thailand is a wild card on the list bringing it to a close, as it's not focused on a beach or island setting. It's set primarily in Bangkok, Thailand.
Brokedown Palace, directed by Jonathan Kaplan and starring Claire Danes and Kate Beckinsale, portrays two American friends imprisoned in Thailand for alleged drug smuggling. This film scared the shit out of me! Yet this film also ignited my curiosity about traveling abroad as a backpacker, bouncing around from place to place going on adventures and meeting handsome Australian boys.
The concept of Brokedown Palace was based on a true story. The producer, Adam Fields, traveled to Thailand a decade prior, and learned that many American women were locked up in Thailand and suffered harsh inhuman treatment.
Telling their parents they're going to Hawaii, recent high school grads Alice (Claire Danes) and Darlene (Kate Beckinsale) instead travel to Thailand, banking on the idea that their money will go farther than it would in Hawaii. In Thailand they meet Nick, a charming Aussie who invites them to travel to Hong Kong to hang out with him. Things go horribly awry at the airport when the girls get caught smuggling heroin in their luggage and are both sentenced to thirty-three years in a Thai prison. Having realized that Nick set them up, they seek the assistance from an American expat lawyer living in Thailand.
No spoiler alerts on this one if you haven't seen Brokedown Palace, but it is a definite must-see about the harsh realities of traveling in a foreign country, especially as a female. And an important warning to those wishing to venture abroad.
I've checked Thailand off my bucket list already, and I hope to conquer more of the locations on this list in the coming years. What island adventures are on your bucket list?
Angie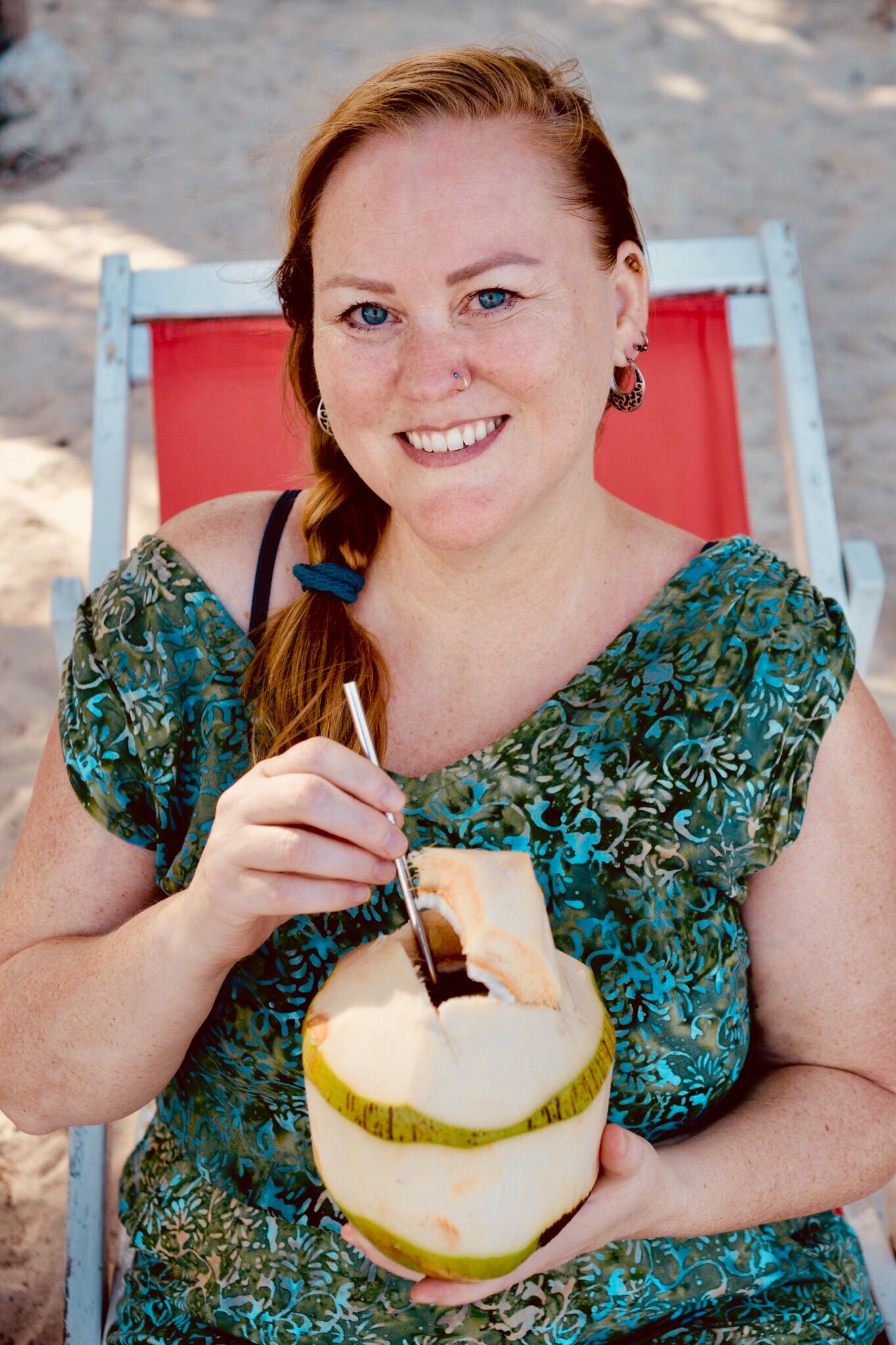 Angie House is a freelance writer who offers content writing for topics in the following genres: work and life abroad, travel, lifestyles, education, and social media marketing. She works closely with businesses to establish organic marketing strategies to increase brand awareness and brand promotion via quality engaging content. Her writing style is light, conversational, relatable and witty.
You can learn more about Angie here:
IG: @chasing_angie
Portfolio: www.angiehouse.mystrikingly.com